The Highlights
Our land clearing prices generally range from $4,000-$6,000 per acre. Our prices will vary based on how many acres are involved, land grading, whether we're mulching (and/or including waste and debris removal), and whether these are lightly wooded lots or a heavily wooded property.
We think land clearing costs should be straightforward and transparent. Our goal is to provide comprehensive land clearing services at a fair price, meaning that we leave your land ready for action: no mess and no fuss.
We usually bring a team with chainsaws for tree removals, a skid steer, mulching equipment for brush removal, and a dump truck or trailer for transporting large wood that you don't want left on your property.
Deciding to build a house or office in a wooded area is an exciting project that will hopefully yield a valuable new property for your business or family. However, working with heavily forested land brings challenges that do require additional costly services to prepare the site for new construction.
While researching the best land clearing company to prepare your new project for construction, it's crucial to consider the land clearing cost. Many factors impact these expenses, from labor to the site's natural features. Learning these cost components will better prepare you for what you can expect to pay for land clearing services.
Bear Claw Land Services offers transparent, upfront pricing for your land clearing project.
Call (970) 363-4837 for a free estimate from our land-clearing professionals in Colorado today.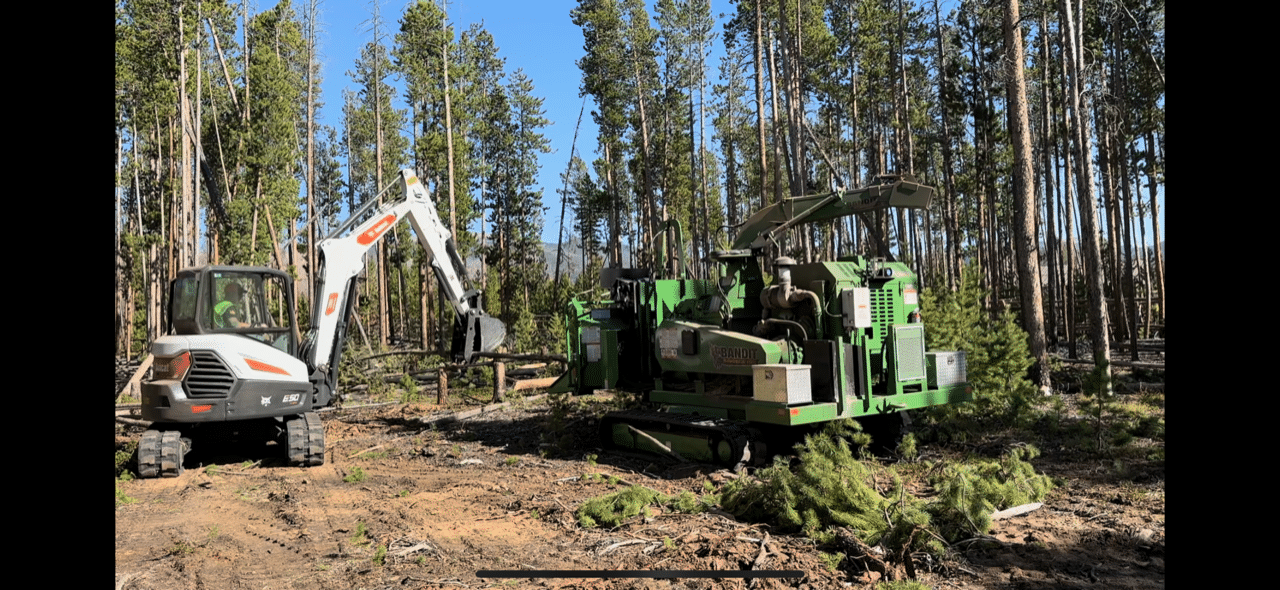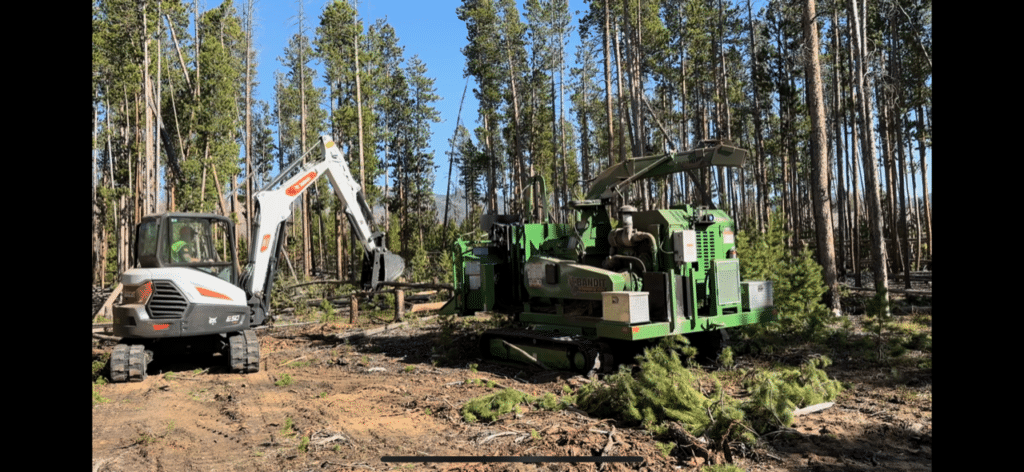 The Average Cost to Clear Land Explained
We price our services based on detailed inspections and assessments of your new construction site. After evaluating the level of foliage, trees, and underbrush in preparation to clear land on your property, we provide a single and final quote.
The average cost of to clear land with a professional land clearing service like Bear Claw usually averages between $4,000 – $6,000 per acre in and around Denver and the surrounding Rocky Mountain Region. Our cost to clear land is "brush to mulch", meaning that we take care of everything, leaving you with clean land cleared of small trees, comprehensive brush removal, and a space that's ready for whatever's next.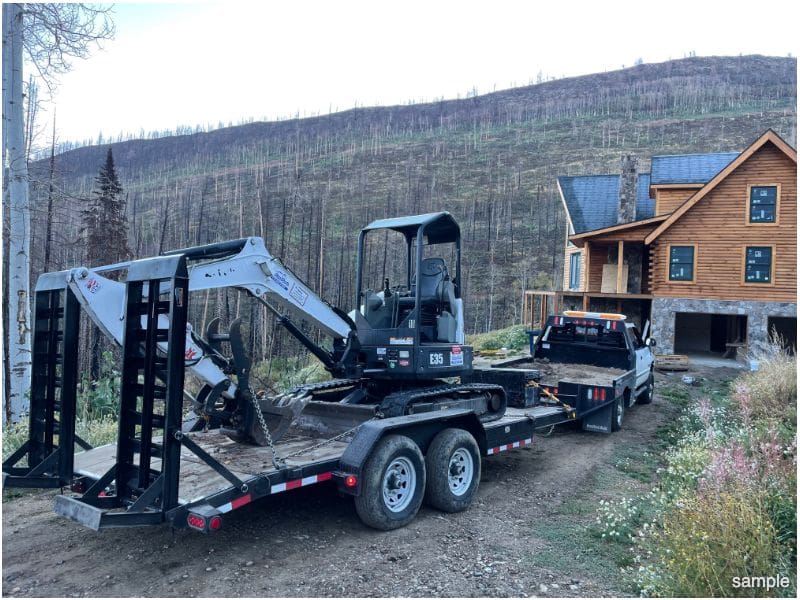 What Factors Affect the Cost of Land Clearing?
Clearing land can be a fast and cost-effective way to prepare land for a construction project or views.
And a lot goes into the estimate for your cost to clear land. Learning more about the factors involved in the total land clearing cost, and how we approach clearing land with our team, can help you avoid surprises later.
The factors affecting the cost to clear land include:
Size of the site:
Unsurprisingly, a larger area will cost much more to clear than a small site. While a quarter acre can cost as little as $1,000, a heavily forested acre of land full of fallen trees and requiring stump removal might result in a few thousand per acre.
Type of brush, trees, and vegetation requiring removal:
While size might seem like the primary determining factor for cost, the land's natural features impact costs even more significantly. Land with large tree stumps, heavy underbrush, and sloped ground can cost an average of $3,500 to $5,000 per acre. These costs can increase even further with additional services necessary to ready the land to build. Lightly forested land or a lightly wooded area is much easier for our team to access and mobilize.
Method of evaluating cost:
One consideration is how a company packages its costs. While we generally project the cost to clear land by the acre, some companies charge per square foot, or may even choose to charge for land clearing by the tree! Depending on the size of tree & how many trees are being removed, many companies charge anywhere from $100-$250 per tree. Ask about what goes into your land clearing cost before sign on the dotted line.
Additional services needed:
From erosion control to soil testing to land grading, your land clearing job could incur various expenses from other services necessary to prepare the site for construction. Stump removal, yard waste removal, land clearing permits, land slope, brush removal, underground utilities, tree clearing, and more can all affect cost to clear land.
Land clearing permit and land survey costs:
With new buildings, you may need to enlist a land survey and permits to comply with local regulations, and these services can incur an additional fee. Building permits are obtained through your local municipality and are usually handled by your General Contractor. Your general contractor or builder will also help you find a local land survey company or land surveyor.
Miscellaneous costs:
Your site's distance from the contractor, dump accessibility, and inorganic material removal can add expense to a land clearing project.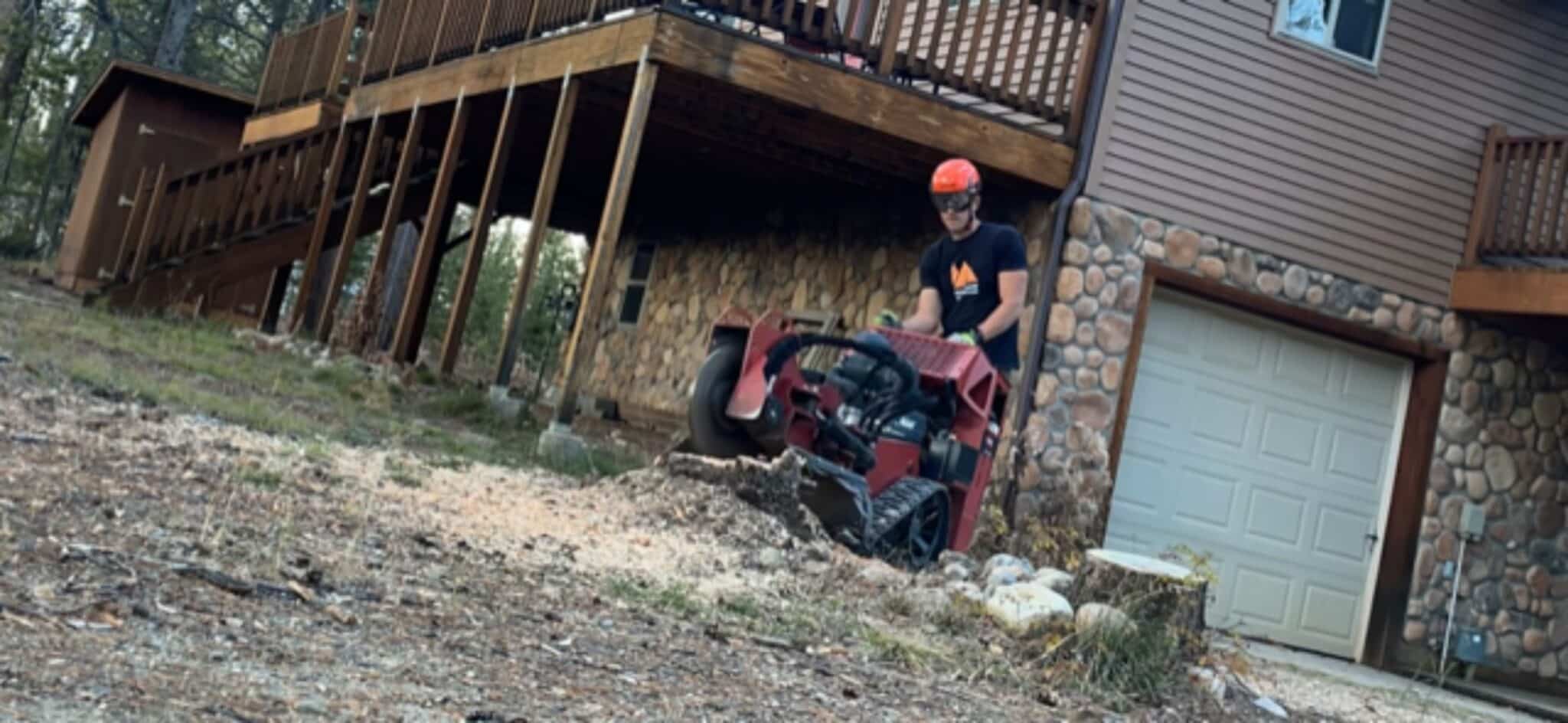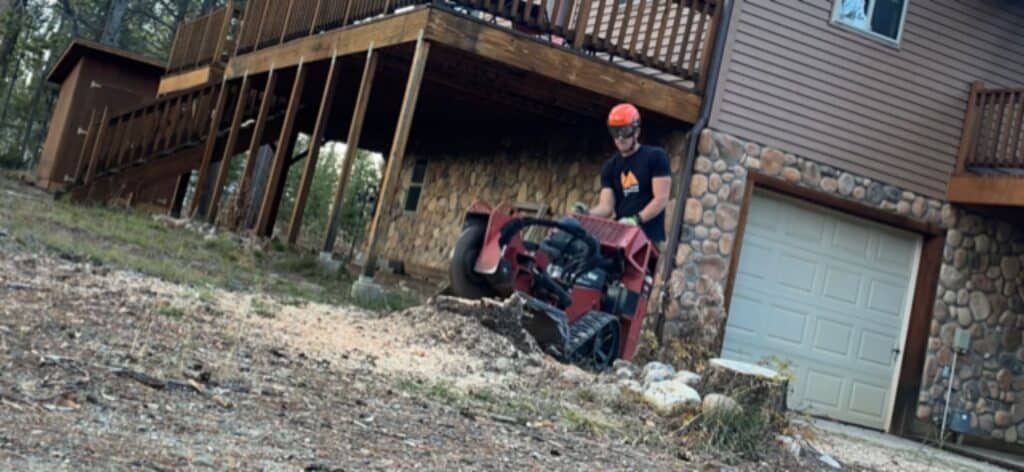 How Can You Save Money on Land Clearing?
Since there are many high costs associated with land clearing, it's helpful to know what money-saving tactics are available to reduce these expenses.
Some ways you can save money on land clearing include:
Forestry mulching:
Consider forestry mulching for land that may sit empty for some time before building begins. These services turn leftover debris on land into a layer of mulch that provides additional nutrients for the soil, helps with soil erosion risk, and reduces your ecological impact.
DIY land clearing:
You can always attempt a DIY land clearing project. However, the land clearing cost from a professional company may be worth the quality of work while also helping you avoid injuries or site damage.
Governmental financial aid:
For specific land clearing projects, governmental financial assistance may be available to reduce costs. Organizations like Grand County Wildfire Council offer homeowner match programs for land clearing related to wildfire mitigation. These programs are funded by the government to encourage homeowners to mitigate Colorado properties from the threat of wildfires by hiring contractors to remove dead trees, brush, juniper bushes and/or selectively thin old & new trees to create fire breaks in the forest.
Sell the trees:
You may be able to sell trees removed from your property to earn some additional income from site preparation services. Should you choose to hire a contractor, the contractor may be able to sell the trees to a lumber mill or post yard to offset some of your land clearing, tree removal, and fire mitigation costs.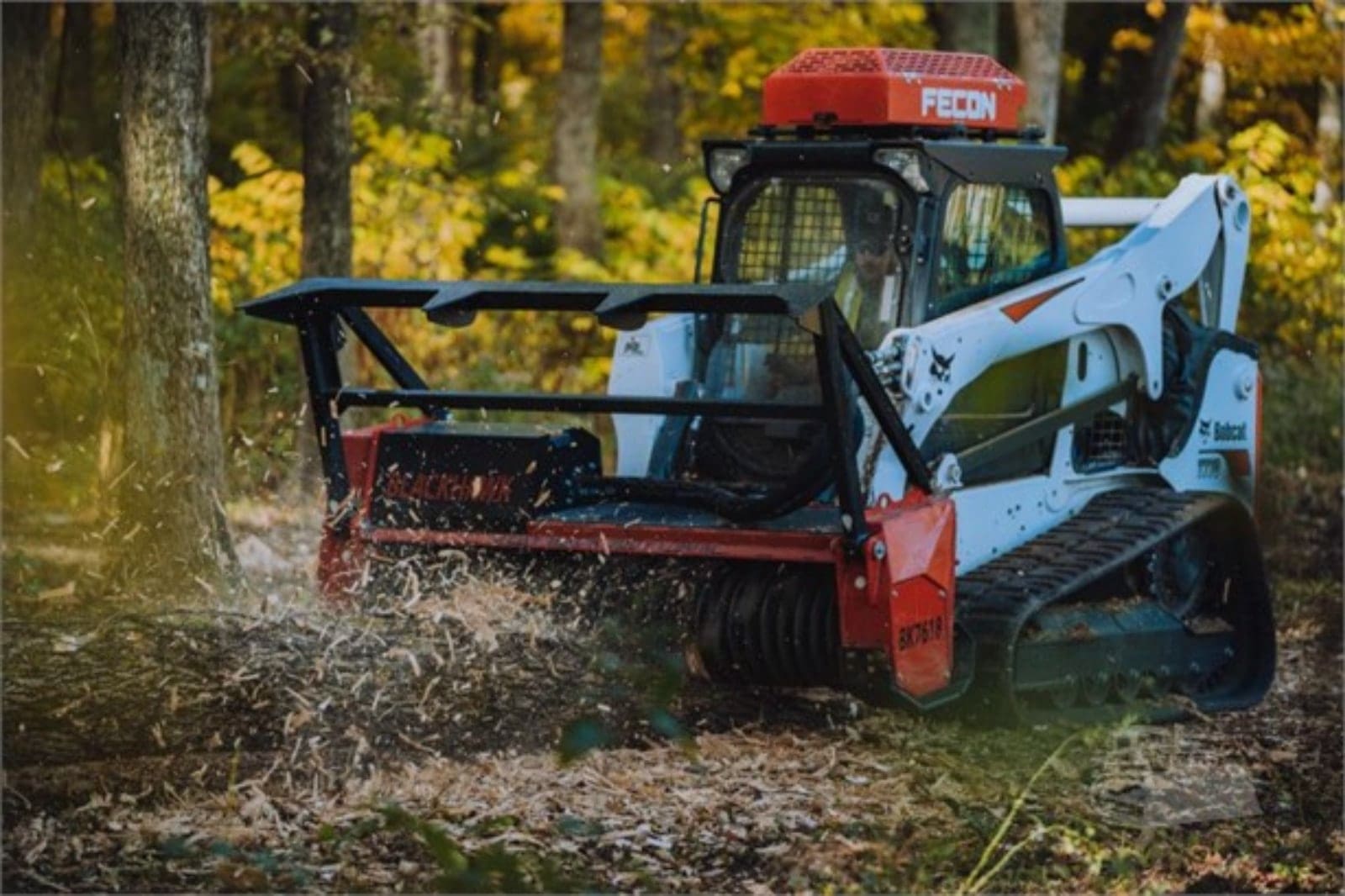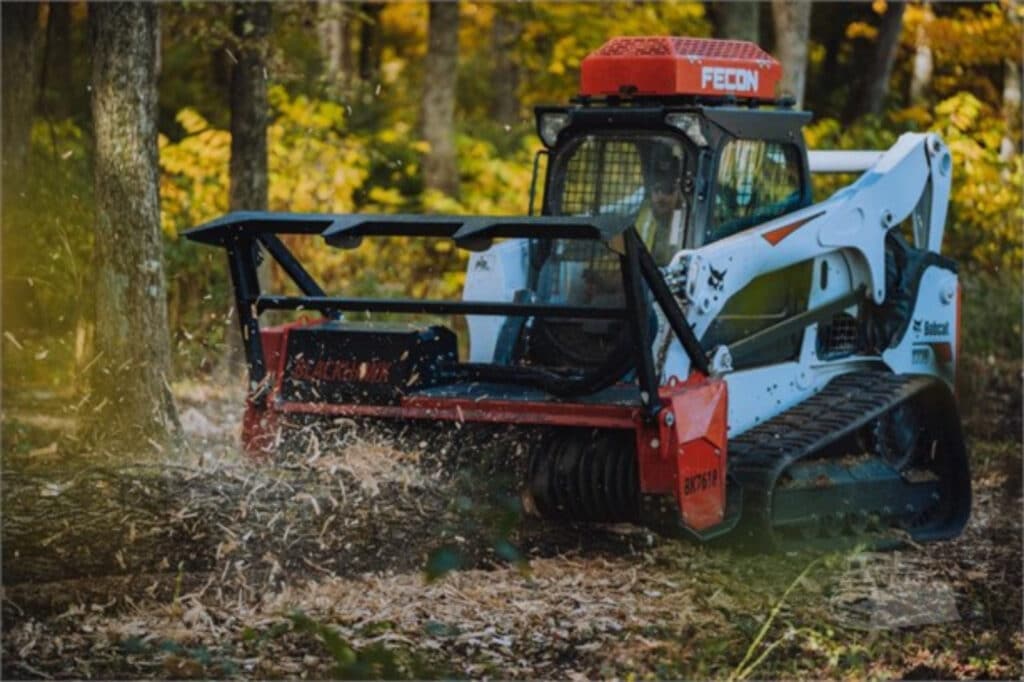 What Happens During a Land Clearing Project?
Whether you're on lightly wooded land, heavily wooded land, working around existing structures, or just have half an acre you want cleared, our approach to clearing land looks pretty similar.
To get a clear picture of what it will take to clear land on your property, we do a boots-on-the-ground walkthrough with your your contractor. We're looking for every facet that might affect how we approach clearing land for you in order to provide a fair price and perfectly cleared land! The land survey ensures everyone's happy with the end product.
If we agree on a price, we put you on our schedule!
We begin the clearing land process by taking down larger trees that you want removed. As these come down, we saw up the trunk segments, load them up, and then leave small branches behind to be chipped and mulched.
We then use a skid steer and a powerful mulching head to remove low brush, vegetation, and smaller debris around the property. This is also where we mulch down the foliage from any felled trees.
We load up large pieces of wood, take care of debris removal that can't stay on the land, and then we're out of your hair.
Our goal is a beautiful end product and a happy customer. We keep working until you leave us a 5-star review!
Our Commitment to Transparent Pricing
Our goal is to give you a single price for land clearing up front, and then stick to it.
To clear land effectively, we use the right equipment for the job. It makes our work faster, easier, safer, and even more environmentally friendly! IF you're looking for experienced, effective land clearing – and a clear picture of the overall land clearing cost – Bear Claw can help.
Bear Claw Land Services provides a holistic price estimate after one of our team members conducts an extensive assessment of your property. We provide our customers with details about all our services before beginning work on your land. Working with a land clearing company like ours ensures you know what to expect from the start.


Hire Affordable Land Clearing Services from Bear Claw Land Services
For more information about the total land clearing cost or to get a free estimate from Colorado's top-rated land clearing, fire mitigation, and tree removal service. Call (970) 363-4837 and speak to experts from Bear Claw Land Services today!
Bear Claw Land Services is located in beautiful Grand County, Colorado and proudly services Winter Park, Fraser, Tabernash, Granby, Grand Lake, Parshall, and Kremmling.
We can also service our neighboring counties which include the towns of Silverthorne, Eagle, Vail, Breckenridge, Evergreen, Conifer, as well as the Front Range wooded locations of Golden, Boulder, Castle Rock, Larkspur, Ken Caryl, & Highlands Ranch.